Screen Monitor Software
The Software Presented here is Screen Monitor Software which can Automatically Detect Screen Changes and inform you about changes detected on the Screen. This Screen Monitor Software works on Single or Multiple Monitor Windows Computers running Windows 10, Windows 8.1, Windows 8, Windows 7 and other Operating Systems. Download Free Trial of Screen Monitor Software on your Windows Computer and Automate Screen Change Detection to Easily Monitor Changes on your Computer Screen.
With Screen Monitor Software, you can let the Software do the Monitoring for you and releve you from keep on gazing at Computer Screen. This Software Utility can also be handy when time critical actions needs to be taken in response to a Popup Appearing on Screen, a Software Application providing only Visual Indication for changes happening in the software, and much more. By triggering Script Macro Actions to be executed you can automate Screen Monitoring and take appropriate actions automatically.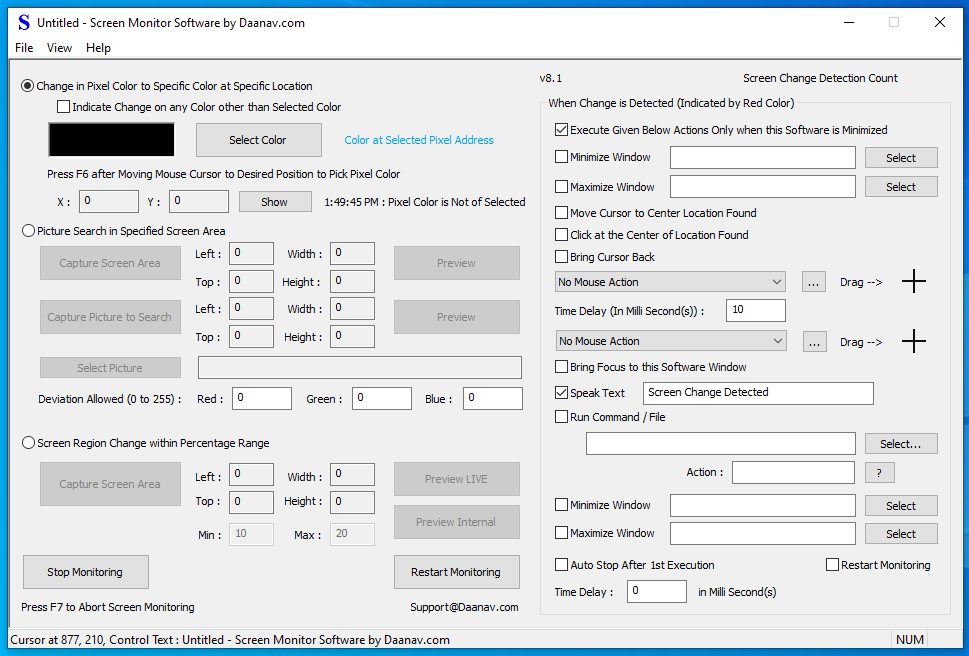 Automated Screen Change Detection
There are basically 4 different ways on which you can Automatically detect Screen changes with Screen Monitor Software. To have Multiple Screen Areas to be monitored, you can run multiple instances of Screen Monitor Software. Yes when a configured Screen Change is detected, you can Open a File, Run a Script, and much more so as to handle the Screen Change as per your requirement. Do have a look at the Screenshot of Screen Change Software provided above to easily understand all the features offered by the software or simply read below.
Pixel Color Change at Specific Location to Specific Color : This is is first and fastest way in which you can Monitor Screen Changes. All you need to do is Pick a Pixel Color at any Screen Location with Keyboard Shortcut Provided and that's it. Whenever the Pixel Color at that Specific Screen Location Changes to the Selected Color, a Change Alert will be initiated in the Software.
Pixel Color Change at Specific Location to Other than Specific Color : This Screen Change Detection Method is very similar to the first Screen Change Detection, however it allows you to Detect Pixel Color Change from a Specific Color to any other Color.
Screen Area for Appearance of Captured Picture : This Screen Change Detection Action Searches for a Picture / Image in Selected Screen Area. Whenever the Picture is found in the Screen Search Area, a Change Notification is initiated in the Software itself for which you can configure appropriate action to be performed.
Screen Area for Changes : This Method of Screen Change Detection works by Monitoring a Rectangular Area of Display Screen and informs you the Percentage of Screen Change. You can configure Change Alert to be initiated whenever the Screen Change Percentage is within Specified Range.
Action to Take Whenever Screen Change is Detected
There are Multiple Configurable Actions available which you can configure to handle Screen Change on your Computer. You can even get any other relavent Action added to the software by writing to the Customer Support Email Address. Given below are the actions available in the Screen Monitor Software to execute whenever Screen Change as configured in the Software is detected.
Speak Text : This Action Lets your Configure a Text Sentence which when executed conversts Text to Speech and Speaks the Text through your default Audio Output Device. The Speak Text is by default enabled with default text configured as Screen Change Detected. The Voice output can be really handy to let your know about the changes detected on your computer screen when you are not looking and monitoring your computer screen.
Run Command / Open File : This Action allows your to run any Command Line Command, a File to Open with default application, run an Application file or even run a Macro Script containing Mouse Clicking, Keystroke Pressing etc as displayed in the screenshot above. The Screenshot displayed above runs a Macro Script of file extension .mamc created with Auto Mouse Click.
You can also configure the Screen Monitor Software to execute Actions only when the Software is Minimized with Execute Actions only when Software is Minimized Option Enabled. This allows you to Monitor Screen Changes as detected by the software without actually running the Actions.
Configurable Settings of Screen Monitor Software
The Settings of Screen Monitor Software allows you to Configure various parameters of the Software. As evident from the Screenshot, you can Change the Folder Location where Pictures to be searched are stored by the software.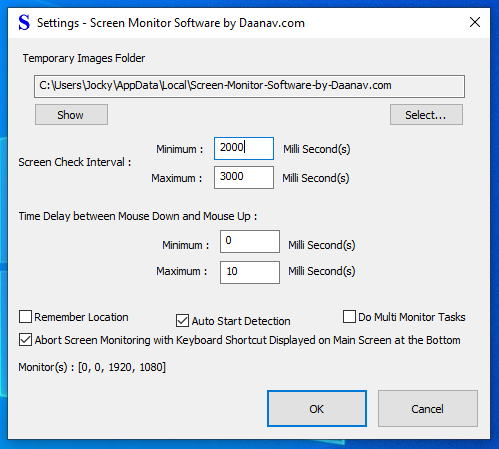 Images Folder : A Folder to Store Images captured by the Screen Monitor Software to be Searched on Screen.
Search Time Interval : This Configurable Time Duration Interval in Milli Seconds control at what interval the Screen Search / Monitoring is Performed.
Remember Location : This Configurable Parameters instructs the Screen Monitor Software to Store and Load Last Location of the Software.
Remember Parameters : Once Enabled, this Parameter instructs the Screen Monitor Software to Automatically Store and Load All the Parameters Displayed on the Main Screen of the Software.
---